Amber Revolution is the rags to riches story of orange wine – the world's oldest and most distinct wine style, almost abandoned after two world wars, then rediscovered half a century later amidst controversy and misunderstanding.
Part compelling social history, part orange wine primer, Amber Revolution weaves its tale of oppression, struggle and persistence across the shifting borders of Friuli and Slovenia, to the Caucasus, Georgia and beyond.
Includes a guide to 180 recommended producers from 20 countries, plus tips for buying, food matching and enjoying orange wines.
About the author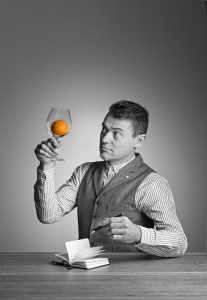 Simon J Woolf is an award-winning English wine and drinks writer, currently clinging to mainland Europe in Amsterdam. This is his first book.
Originally trained as a musician, Simon worked variously as a sound engineer, IT consultant and alternative currency designer before wine took over his life. His writing career began in 2011 with the founding of The Morning Claret – an online wine magazine which has become one of the world's best loved resources for natural, artisanal, organic and biodynamic wine.
He contributes regularly to Decanter magazine, Meininger's Wine Business International and many other publications on and offline.
When not obsessing about orange wine, Simon is a keen cook and lover of difficult music.
Sign up for Simon's newsletter at www.themorningclaret.com/subscribe to stay in touch.